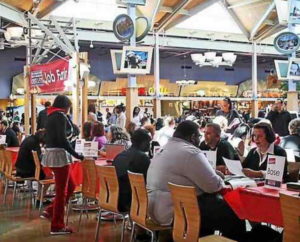 Hired for the holidays: Great Lakes Crossing to host job fair, experts offer seasonal predictions
The Oakland Press
More than 50 stores and restaurants at Great Lakes Crossing Outlets will be present for an upcoming job fair at the mall in hopes of hiring seasonal and regular part-time and full-time workers.
Taking place Sept. 29 from 2-5 p.m., the job fair will be conducted in the food court of Great Lakes Crossing Outlets in Auburn Hills offering positions in sales, management, culinary, stocking and inventory. Applicants are encouraged to dress for the interview and bring several copies of their resume. The mall is expecting hundreds of people to attend, said Melissa Morang, marketing and sponsorship director for Great Lakes Crossing, in an attempt to join the more than 2,000 people already employed in the mall complex.
For those who rely on seasonal work for their income, Great Lakes Crossing might be one of the best bets for employment, according Kenneth Dalto, a retail consultant expert and president of Kenneth J. Dalto & Associates. Discount stores and off-the-rack retailers have seen a major uptick in customers over the last several years including those from the mid and upper socioeconomic classes.
"I think you're going to see holiday shopping down from last year, there's still too much uncertainty about what this election is going to bring and too much unemployment," Dalto said. "The people who are going to do well are the discounters like the Great Lakes types because over the last five years the quality of their merchandise has gone up and the pricing has stayed reasonable."
Dalto added that there will probably be a higher percentage of seasonal workers kept on after the holidays at discounters, compared to big box stores in higher-end malls like Twelve Oaks Mall or the Somerset Collection.
"There's no question that places like Macy's will let them go right after the holidays. What's going to happen with the seasonal workers in the discounters is that they're going to look at these employees and keep some of them because the discounters are always trying to get their service better," Dalto said.
Tom Scott, senior vice president of the Michigan Retailers Association, had a bit of a different outlook for the coming holiday shopping season.
"I would expect the outlook is going to be positive, but I don't want to prejudge without the actual projections. The thing about retailing is it's so huge and diverse, you can have trends and countertrends going on at the same time," Scott said.
Scott also mentioned that there is a perceived interest in the industry for unique shops like small, local boutiques who specialize in their merchandise instead of general commodities. Shinola, a speciality watch, leather and bicycle company, is one such example as the company prepares to open a location at Great Lakes Crossing Outlets in October according to mall representative Morang.
"Generally all retail has come back in leaps and bounds compared to where it was in the recession and we've seen continued improvement. It's slowed down a little bit, but it's a year-to-year improvement," Scott said. "It's going to be a little better than last year, not dramatic improvement, but a little better."
FOOD
•A&W/Taco Bell
•For the Love of Cheesecake
•IT'Sugar
•Johnny Rockets
•LIK Gelato Bar
•Rise Pies
•Starbucks
•Teavana
APPAREL/ACCESSORIES
•ALDO Outlet
•Bebe
•Burlington Coat Factory
•Clarks Bostonian Outlet
•Cole Haan Outlet Store
•DKNY
•Express Factory Outlet
•Forever 21
•Fossil Outlet
•Gymboree Outlet
•J. Crew | Crewcuts
•Jared Vault
•Journeys, Journeys Kidz & Shi by Journeys
•Levi's Outlet Store
•LIK Gelato Bar
•Lord & Taylor Outlet
•Love Culture Outlet
•Lucky Brand Jeans Outlet
•Maidenform Outlet
•Marshalls
•Motherhood Maternity Outlet
•Nautica Factory Store
•New York & Company Outlet
•Robert Wayne Footwear Outlet
•Saks Fifth Avenue OFF 5TH
•Samsonite Company Store
•Shinola Detroit
•Skechers Outlet
•Solstice Sunglass Outlet
•Steve Madden
•Swarovski
•Talbots Factory Outlet
•The Children's Place Outlet
•The Limited Outlet
•Tommy Hilfiger
•True Religion Brand Jeans Outlet
•U.S. POLO ASSN.
•Van Heusen Factory Outlet
•Vanity Outlet
•Vera Bradley
•Victoria's Secret Outlet
•Watch Station International
•Wilsons Leather Outlet
ENTERTAINMENT
•AMC Theatres
•Ann Taylor Factory Store
•GameStop
•LEGOLAND Discovery Center Michigan
•SEA LIFE Michigan Aquarium
SPORTING GOODS/SPORTING APPAREL
•Basan Stores
•Bass Pro Shops Outdoor World
•Finish Line
•Lids
•Mountain Warehouse
•Nike Factory Store
•Oakley Vault
MISCELLANIES RETAIL
•Bath & Body Works
•Bed Bath & Beyond
•Disney Store Outlet
•Gifts Engraved/3D Innovation
•Guest Services
•Le Creuset
•Perfumania
•Piercing Pagoda
•Things Remembered Outlet
•Toys R Us Express
•Yankee Candle